CASACUBERTA Josep
Structure and evolution of plant genomes, CRAG, Barcelona, Spain
Evolutionary genomics, Plants
recommender
Recommendation:
1
Review:
1
Areas of expertise
- Transposon anotation and characterization - Transposon mechanisms and control - Plant genome structure and evolution - Impact of transposons in genes and genomes
Recommendation: 1
07 Sep 2023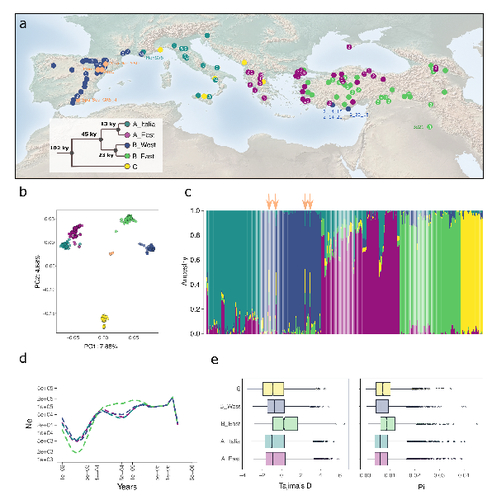 The demographic history of the wild crop relative Brachypodium distachyon is shaped by distinct past and present ecological niches
Natural variation and adaptation in Brachypodium distachyon
Recommended by Josep Casacuberta based on reviews by

Thibault Leroy

and 1 anonymous reviewer
Identifying the genetic factors that allow plant adaptation is a major scientific question that is particularly relevant in the face of the climate change that we are already experiencing. To address this, it is essential to have genetic information on a high number of accessions (i.e., plants registered with unique accession numbers) growing under contrasting environmental conditions. There is already an important number of studies addressing these issues in the plant Arabidopsis thaliana, but there is a need to expand these analyses to species that play key roles in wild ecosystems and are close to very relevant crops, as is the case of grasses.
The work of Minadakis, Roulin and co-workers (1) presents a Brachypodium distachyon panel of 332 fully sequences accessions that covers the whole species distribution across a wide range of bioclimatic conditions, which will be an invaluable tool to fill this gap. In addition, the authors use this data to start analyzing the population structure and demographic history of this plant, suggesting that the species experienced a shift of its distribution following the Last Glacial Maximum, which may have forced the species into new habitats. The authors also present a modeling of the niches occupied by B. distachyon together with an analysis of the genetic clades found in each of them, and start analyzing the different adaptive loci that may have allowed the species' expansion into different bioclimatic areas.
In addition to the importance of the resources made available by the authors for the scientific community, the analyses presented are well done and carefully discussed, and they highlight the potential of these new resources to investigate the genetic bases of plant adaptation.
References
1. Nikolaos Minadakis, Hefin Williams, Robert Horvath, Danka Caković, Christoph Stritt, Michael Thieme, Yann Bourgeois, Anne C. Roulin. The demographic history of the wild crop relative Brachypodium distachyon is shaped by distinct past and present ecological niches. bioRxiv, 2023.06.01.543285, ver. 5 peer-reviewed and recommended by Peer Community in Genomics. https://doi.org/10.1101/2023.06.01.543285
Review: 1
18 Feb 2021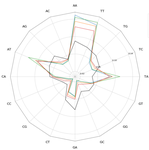 Traces of transposable element in genome dark matter co-opted by flowering gene regulation networks
Using small fragments to discover old TE remnants: the Duster approach empowers the TE detection
Recommended by Francois Sabot based on reviews by

Josep Casacuberta

and 1 anonymous reviewer
Transposable elements are the raw material of the dark matter of the genome, the foundation of the next generation of genes and regulation networks". This sentence could be the essence of the paper of Baud et al. (2021). Transposable elements (TEs) are endogenous mobile genetic elements found in almost all genomes, which were discovered in 1948 by Barbara McClintock (awarded in 1983 the only unshared Medicine Nobel Prize so far). TEs are present everywhere, from a single isolated copy for some elements to more than millions for others, such as Alu. They are founders of major gene lineages (HET-A, TART and telomerases, RAG1/RAG2 proteins from mammals immune system; Diwash et al, 2017), and even of retroviruses (Xiong & Eickbush, 1988). However, most TEs appear as selfish elements that replicate, land in a new genomic region, then start to decay and finally disappear in the midst of the genome, turning into genomic 'dark matter' (Vitte et al, 2007). The mutations (single point, deletion, recombination, and so on) that occur during this slow death erase some of their most notable features and signature sequences, rendering them completely unrecognizable after a few million years. Numerous TE detection tools have tried to optimize their detection (Goerner-Potvin & Bourque, 2018), but further improvement is definitely challenging. This is what Baud et al. (2021) accomplished in their paper. They used a simple, elegant and efficient k-mer based approach to find small signatures that, when accumulated, allow identifying very old TEs. Using this method, called Duster, they improved the amount of annotated TEs in the model plant Arabidopsis thaliana by 20%, pushing the part of this genome occupied by TEs up from 40 to almost 50%. They further observed that these very old Duster-specific TEs (i.e., TEs that are only detected by Duster) are, among other properties, close to genes (much more than recent TEs), not targeted by small RNA pathways, and highly associated with conserved regions across the rosid family. In addition, they are highly associated with flowering or stress response genes, and may be involved through exaptation in the evolution of responses to environmental changes. TEs are not just selfish elements: more and more studies have shown their key role in the evolution of their hosts, and tools such as Duster will help us better understand their impact.

References
Baud, A., Wan, M., Nouaud, D., Francillonne, N., Anxolabéhère, D. and Quesneville, H. (2021). Traces of transposable elements in genome dark matter co-opted by flowering gene regulation networks. bioRxiv, 547877, ver. 5 peer-reviewed and recommended by PCI Genomics.doi: https://doi.org/10.1101/547877

Bourque, G., Burns, K.H., Gehring, M. et al. (2018) Ten things you should know about transposable elements. Genome Biology 19:199. doi: https://doi.org/10.1186/s13059-018-1577-z

Goerner-Potvin, P., Bourque, G. Computational tools to unmask transposable elements. Nature Reviews Genetics 19:688–704 (2018) https://doi.org/10.1038/s41576-018-0050-x

Jangam, D., Feschotte, C. and Betrán, E. (2017) Transposable element domestication as an adaptation to evolutionary conflicts. Trends in Genetics 33:817-831. doi: https://doi.org/10.1016/j.tig.2017.07.011

Vitte, C., Panaud, O. and Quesneville, H. (2007) LTR retrotransposons in rice (Oryza sativa, L.): recent burst amplifications followed by rapid DNA loss. BMC Genomics 8:218. doi: https://doi.org/10.1186/1471-2164-8-218

Xiong, Y. and Eickbush, T. H. (1988) Similarity of reverse transcriptase-like sequences of viruses, transposable elements, and mitochondrial introns. Molecular Biology and Evolution 5: 675–690. doi: https://doi.org/10.1093/oxfordjournals.molbev.a040521