SHAPIRO B. Jesse
Microbiology and Immunology, McGill University, Montreal, Canada
Bioinformatics, Evolutionary genomics, Metagenomics, Population genomics
recommender
Recommendation:
1
Reviews:
0
Areas of expertise
Bioinformatics, Evolutionary genomics, Metagenomics, Population genomics
Recommendation: 1
24 Sep 2020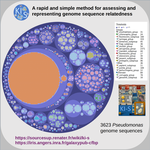 A rapid and simple method for assessing and representing genome sequence relatedness
A quick alternative method for resolving bacterial taxonomy using short identical DNA sequences in genomes or metagenomes
Recommended by B. Jesse Shapiro based on reviews by

Gavin Douglas

and 1 anonymous reviewer
The bacterial species problem can be summarized as follows: bacteria recombine too little, and yet too much (Shapiro 2019).
Too little in the sense that recombination is not obligately coupled with reproduction, as in sexual eukaryotes. So the Biological Species Concept (BSC) of reproductive isolation does not strictly apply to clonally reproducing organisms like bacteria. Too much in the sense that genetic exchange can occur promiscuously across species (or even Domains), potentially obscuring species boundaries.
In parallel to such theoretical considerations, several research groups have taken more pragmatic approaches to defining bacterial species based on sequence similarity cutoffs, such as genome-wide average nucleotide identity (ANI). At a cutoff above 95% ANI, genomes are considered to come from the same species. While this cutoff may appear arbitrary, a discontinuity around 95% in the distribution of ANI values has been argued to provide a 'natural' cutoff (Jain et al. 2018). This discontinuity has been criticized as being an artefact of various biases in genome databases (Murray, Gao, and Wu 2020), but appears to be a general feature of relatively unbiased metagenome-assembled genomes as well (Olm et al. 2020). The 95% cutoff has been suggested to represent a barrier to homologous recombination (Olm et al. 2020), although clusters of genetic exchange consistent with BSC-like species are observed at much finer identity cutoffs (Shapiro 2019; Arevalo et al. 2019).
Although 95% ANI is the most widely used genomic standard for species delimitation, it is by no means the only plausible approach. In particular, tracts of identical DNA provide evidence for recent genetic exchange, which in turn helps define BSC-like clusters of genomes (Arevalo et al. 2019). In this spirit, Briand et al. (2020) introduce a genome-clustering method based on the number of shared identical DNA sequences of length k (or k-mers). Using a test dataset of Pseudomonas genomes, they find that 95% ANI corresponds to approximately 50% of shared 15-mers. Applying this cutoff yields 350 Pseudomonas species, whereas the current taxonomy only includes 207 recognized species. To determine whether splitting the genus into a greater number of species is at all useful, they compare their new classification scheme to the traditional one in terms of the ability to taxonomically classify metagenomic sequencing reads from three Pseudomonas-rich environments. In all cases, the new scheme (termed K-IS for "Kinship relationships Identification with Shared k-mers") yielded a higher number of classified reads, with an average improvement of 1.4-fold. This is important because increasing the number of genome sequences in a reference database – without consistent taxonomic annotation of these genomes – paradoxically leads to fewer classified metagenomic reads. Thus a rapid, automated taxonomy such as the one proposed here offers an opportunity to more fully harness the information from metagenomes.
KI-S is also fast to run, so it is feasible to test several values of k and quickly visualize the clustering using an interactive, zoomable circle-packing display (that resembles a cross-section of densely packed, three-dimensional dendrogram). This interface allows the rapid flagging of misidentified species, or understudied species with few sequenced representatives as targets for future study. Hopefully these initial Pseudomonas results will inspire future studies to apply the method to additional taxa, and to further characterize the relationship between ANI and shared identical k-mers. Ultimately, I hope that such investigations will resolve the issue of whether or not there is a 'natural' discontinuity for bacterial species, and what evolutionary forces maintain this cutoff.
References
Arevalo P, VanInsberghe D, Elsherbini J, Gore J, Polz MF (2019) A Reverse Ecology Approach Based on a Biological Definition of Microbial Populations. Cell, 178, 820-834.e14. https://doi.org/10.1016/j.cell.2019.06.033

Briand M, Bouzid M, Hunault G, Legeay M, Saux MF-L, Barret M (2020) A rapid and simple method for assessing and representing genome sequence relatedness. bioRxiv, 569640, ver. 5 peer-reveiwed and recommended by PCI Genomics. https://doi.org/10.1101/569640

Jain C, Rodriguez-R LM, Phillippy AM, Konstantinidis KT, Aluru S (2018) High throughput ANI analysis of 90K prokaryotic genomes reveals clear species boundaries. Nature Communications, 9, 5114. https://doi.org/10.1038/s41467-018-07641-9

Murray CS, Gao Y, Wu M (2020) There is no evidence of a universal genetic boundary among microbial species. bioRxiv, 2020.07.27.223511. https://doi.org/10.1101/2020.07.27.223511

Olm MR, Crits-Christoph A, Diamond S, Lavy A, Carnevali PBM, Banfield JF (2020) Consistent Metagenome-Derived Metrics Verify and Delineate Bacterial Species Boundaries. mSystems, 5. https://doi.org/10.1128/mSystems.00731-19

Shapiro BJ (2019) What Microbial Population Genomics Has Taught Us About Speciation. In: Population Genomics: Microorganisms Population Genomics. (eds Polz MF, Rajora OP), pp. 31–47. Springer International Publishing, Cham. https://doi.org/10.1007/13836201810